Crucial Real World Insights to Complex Questions
Base your clinical decisions on powerful real world evidence from Forian.
As the cost of healthcare continues to rise, and patients play a more significant role in their own care, there is increasing demand for credible scientific evidence in assessing the real world effectiveness, safety and value of innovative therapies.
Healthcare providers, payers, patients, policymakers and regulators recognize the significance of gathering real world data and understand that real world evidence (RWE) can support advancements toward better care. This means access to large-scale, integrated real world data and scientific evidence is needed more quickly than ever.
Forian integrates a wide variety of real world data sources, applies proven methods and robust analytics to deliver powerful, clinically relevant insights on the safety, effectiveness and value of ethical pharmaceuticals and novel cannabinoid-based therapies to inform healthcare decision-making. Together, our combined data and proprietary technologies help reveal how, where and why therapies succeed. 
Forian is a leader in real world evidence generation
Leverage Large-Scale, Integrated, HIPAA-Compliant Data for Powerful Real World Insights
Forian is highly committed to protecting patient privacy and has created the nation's only proprietary, large-scale, integrated, HIPAA-compliant real world data and analytics platform to answer a variety of research questions. To do this, we gather data from a wide range of sources, including:
electronic medical records (EMR)
Ensuring the scientific rigor and high standards of RWE
The Power of Real World Evidence
Momentum for use of RWE in healthcare decision-making continues to build. The Forian platform is designed to use real world data (RWD) to help quantify the clinical value of innovative therapies and treatment strategies. This means better informed healthcare decision-making for patients, caregivers, clinicians, payers and government regulators. Specifically, our RWE platform can:
provide healthcare decision-makers with evidence to more effectively compare and choose among all available therapeutic options
provide novel evidence-based tools to help predict which patients will benefit from new/different formulations of therapies, improving clinical decision-making and effectiveness
enable innovators to demonstrate the proven value, efficacy and safety of new treatments and alternative therapies
assist regulators in making evidence-based policy based on the proven value and safety of alternative therapies within this rapidly changing marketplace
ensure the scientific rigor and high standards of RWE for acceptance by regulatory and reimbursement authorities
help healthcare providers to empower patients with scientific evidence to contribute to their own positive health outcomes
Forian's real world evidence helps improve healthcare decision-making for clinicians, payers, regulators and healthcare companies
Our curated patient registry data tracks important, relevant patient outcomes that might be missed
Patient and Product Registries
Registries from Forian provide clinically relevant, richly detailed case information for a wide variety of patient groups under real world conditions. Our curated patient registries track important, relevant real world information, including:
a richer understanding of the disease process
patient satisfaction and improved quality of life 
effectiveness of treatments in special populations
real world adverse events

product safety and efficacy
Patient experience is consistently associated with clinical effectiveness
Patient-Reported Outcomes
The importance of patient-reported outcomes (PROs) is growing. Patient experience is consistently positively associated with clinical effectiveness across a wide range of disease conditions, population groups and settings.1 Consequently, PROs are having greater impact on healthcare decisions by payers and regulators as well as by pharmaceutical and manufacturers of traditional and emerging therapies.
Whether gathered through questionnaires or by digitized PROs (electronic patient-reported outcomes, or ePROs), measuring health from the patient's perspective has powerful benefits and a wide variety of uses. PRO measures include important dimensions of the patient experience, including overall satisfaction, as well as comfort, pain and others. PRO measurement also allows these differences to be seen across various products, doses and formulations to aid therapeutic decision-making.
Quantify clinical and economic value of emerging therapies
Health Economics and Outcomes Research (HEOR)
Clinical benefits and costs of healthcare interventions are often hard to measure, especially when those benefits are experienced and valued by patients directly. Leveraging our proprietary RWD and patient registries, Forian scientists conduct rigorous research to provide evidence of clinical and economic value. Forian collaborates with clients and industry partners to quantify real world unmet needs, adherence, compliance, incidence and prevalence, resource utilization and cost, as well as safety and effectiveness. The richness of Forian's RWD, combined with the expertise and experience of our team, provides the ability to:
capture critical insights into the patient, caregiver and provider experience
evaluate the impact of policies on patient outcomes, resource utilization and costs
predict which patients will benefit from new or different formulations of therapies, improving evidence-based clinical decision-making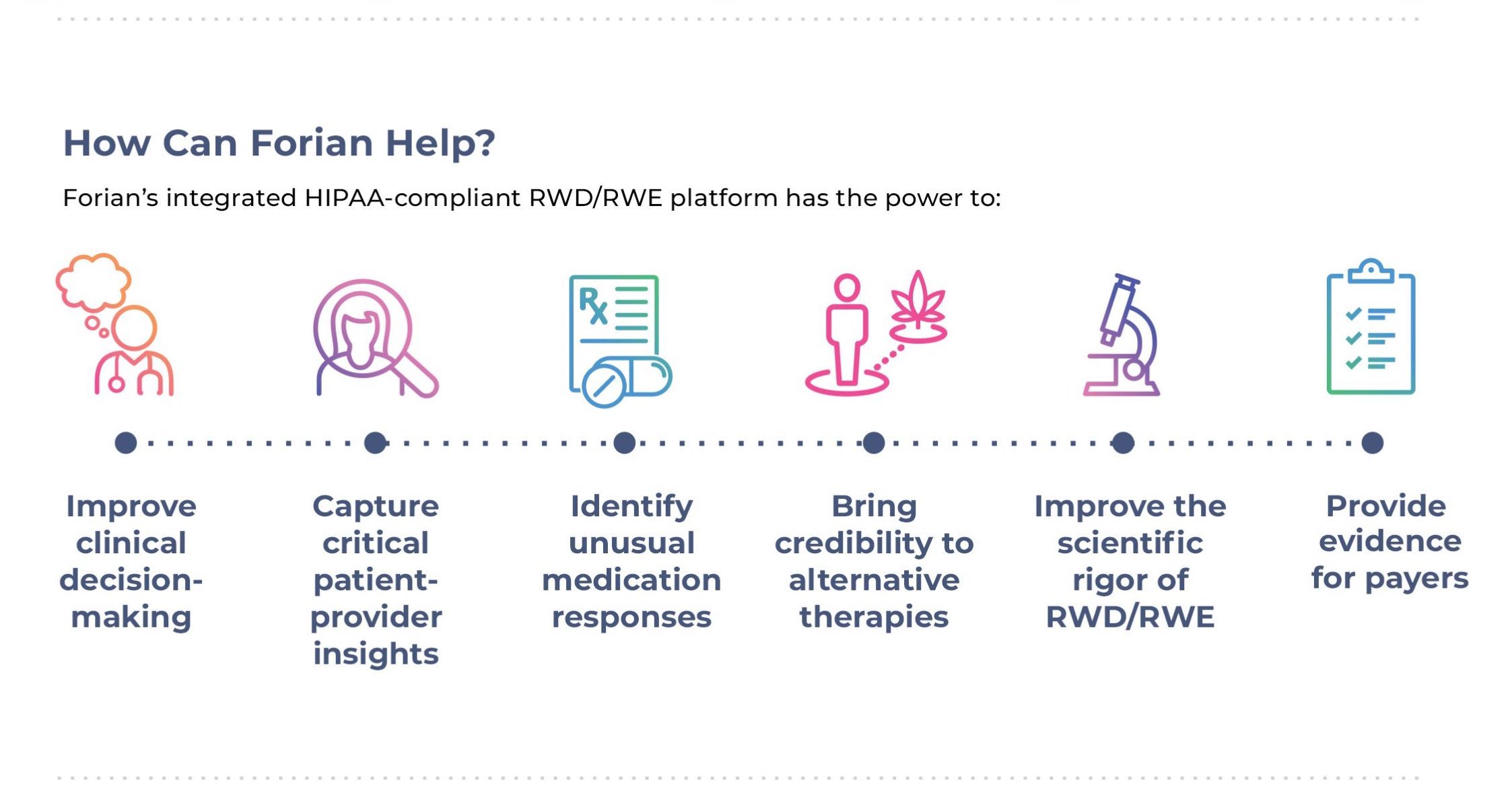 Forian's RWE also shines light on other crucial real world factors
Surveillance Monitoring
Effective, robust, readily available surveillance technology is enabling dramatic improvements in real world patient and treatment monitoring. This is especially effective for helping to understand the safety and efficacy of novel treatments and cannabinoid-based therapeutics. Safety and surveillance monitoring from Forian includes:
understanding treatment-related adverse events, especially among high-risk groups
insight into any adverse experiences, including those associated with long-term or chronic drug use, drug-drug interactions or drug-food interactions
the ability to respond to misuse or abuse, medication errors or packaging/dose formulation issues
Forian equips physicians, caregivers, cannabis stakeholders and patients with credible evidence to improve patient care and health outcomes
Real World Evidence for Policy and Regulatory Decisions
Forian leverages proprietary data to provide evidence-based insight into the safety and efficacy of pharmaceuticals and cannabinoid-based products. This crucial information equips physicians, caregivers, cannabis stakeholders and patients with credible evidence to improve patient care and health outcomes through access to observational research.
Forian leverages proprietary data and scientific expertise to provide evidence-based insight to inform policy decisions for assessing the safety, health, social and economic outcomes associated with all therapeutic options, including cannabinoid-based therapies, at a granular level.
Contact Forian to see how our RWE can deliver new and important perspectives into treatment effectiveness, patient experience, safety and clinical outcomes.
Contact us to see how our industry-leading RWE solutions can deliver the insight and clarity you need.

Forian provides a unique suite of SaaS solutions, data management capabilities and proprietary data and analytics to optimize and measure operational, clinical and financial performance for customers within the traditional and emerging life sciences, healthcare payer and provider segments, as well as cannabis dispensaries, manufacturers, cultivators and regulators.
41 University Drive
Suite 400
Newtown, PA 18940
267-757-8707